PBT Installations are TrustMark registered and MCS certified heat pump installers. Give us a call if you are:
Exploring low carbon alternatives for your heating system

Wanting to save money and be kinder to the planet

Potentially looking for a government grant to cover part of your heating system install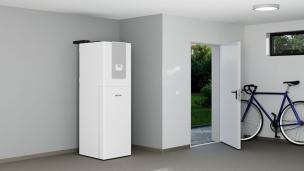 Ground or air source, heat pumps are an excellent heating option and can be installed in a wide variety of properties. They have the most immediate economic benefit if your existing system is LPG, oil or electric heated. However, current subsidies and grants are making the technology financially viable even if you are on mains gas.
They are ideal to be linked to underfloor heating, and work well together with Solar PV technology.
The energy efficiency of an appropriately fitted heat pump means that you can save money immediately on running costs. This is in addition to the Renewable Heat Incentive, which is a government scheme to help you change to an environmentally kinder system.
The incentive was launched by the government as part of its Green Industrial Revolution. It is aiming to roll out over 600,00 heat pumps per year into homes in the UK by 2028.
You can only apply if your use certified, registered heat pump installers such as PBT Installations.
At PBT Installations, we are fully qualified to advise you and install your heat pump. We are experts in heat pump and associated technologies and use the most advanced and reliable systems available.
Book a FREE consultation by completing the enquiry form and we can help you find the best solution for your home .